What Are The Pricing Models In The Self-Service System?
In IgniterAds, we understand the value and peculiarity of each unique campaign. That is why we would like our partners to benefit as much as possible by running a flexible approach to the pricing models.
You can choose the most advantageous option for each campaign individually and choose one of three available pricing models for our advertisers: CPC, CPM, CPA and POP.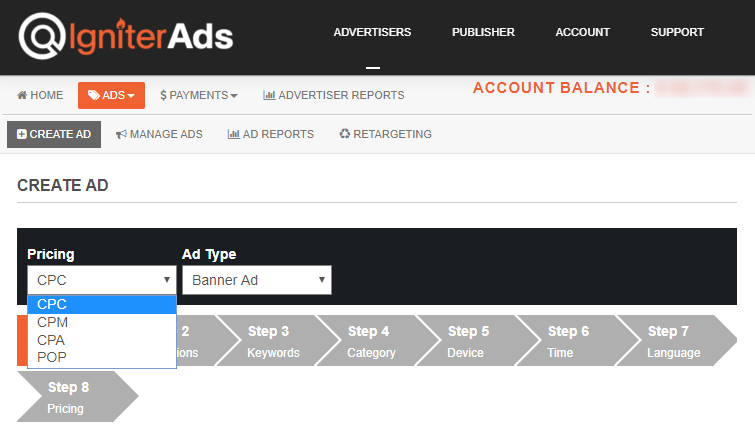 Let's review all four models so that you can choose the most suitable one based on your campaign's goals.
The CPM pricing model stands for cost per 1000 impressions of an ad. You should choose this pricing model if you would like to pay only for the number of impressions. A CPM campaign is a perfect choice if you are a newcomer in the advertising business. Traditional CPM bidding implies the same price for traffic from all placements (zones), which fits an ad campaign targeting.
Another bidding model is CPC. You will get charged only when someone clicks on your ad. It is also one of the most beneficial bidding models for advertisers who know precisely how much they are willing to spend. This way, you are getting complete control over your budget. In other words, with CPC, you spend your campaign budget only on impressions that lead to clicks. When a user clicks on your ad, they're taken directly to your website, where you can convert them into a customer.
CPA is a trend nowadays, followed by CPC. Your ad spending will be based on user actions such as a sale, registration, file download or a survey. CPA is the most favourable ad by publishers compare to CPC and CPM.
And for POP, it's similar to CPC.