Tips On How To Increase Revenue As A Publisher
There are various ways to improve your income as a publisher through IgniterAds. We do not have a problem if you place many ads on your website as long as it complies with the rules that we have set up.
We'll show you one way to maximise your income by placing many ads in posts or pages on your website. This tutorial is for those who place ads using WordPress only.
1. Create an OARTA ad code for the banner size of 728x90px.
2. Then, create 4 more ad codes:
a. OARTA ad size of 300x250px.
b. OARTA ad size of 300x250px (although it has been created in (2a) above, make another one).
c. OARTA ad size of 160x600px.
d. OARTA ad size of 300x600px.
e. Native Ad with Ad Type 'Text + Image', Select Ad Layout '2×2' or '3×3', Ad Image Dimension '200×200' and enable 'Make Ad Responsive'.
3. If you're new, please follow first the method of inserting ad code for WordPress here.
4. Using the WP Quads plugin, follow the settings as below:
a. Go to the 'ADS' tab. Create 4 Ads, i.e. Ad 1, Ad 2, Ad 3 and Ad 4.
b. Paste the ad code you have created in (1) and (2) above. That is, the ad code for (1) above is inserted in Ad 1, ad code (2a) in Ad 2, ad code (2b) in Ad 3 and ad code (2e) in Ad 4.
c. For ad codes (2c) and (2d), insert them in the Widget Sidebar.
d. To beautify your web layout, enter <center> at the beginning of the code and </center> at the end of the code. Insert also <br> after </center> if you want the displayed banner to have the distance with the content on that page (see the example in the picture below).
e. Finally, click the 'Save Changes' button.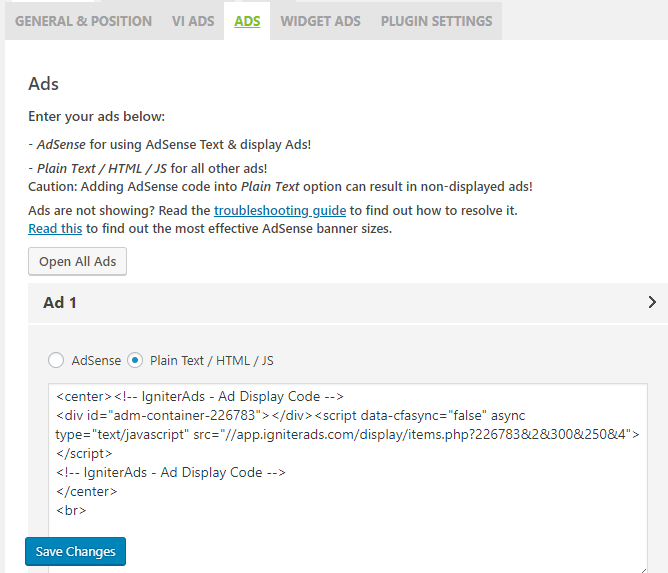 5. Then click on the 'GENERAL & POSITION' tab. Follow the same settings as the picture below: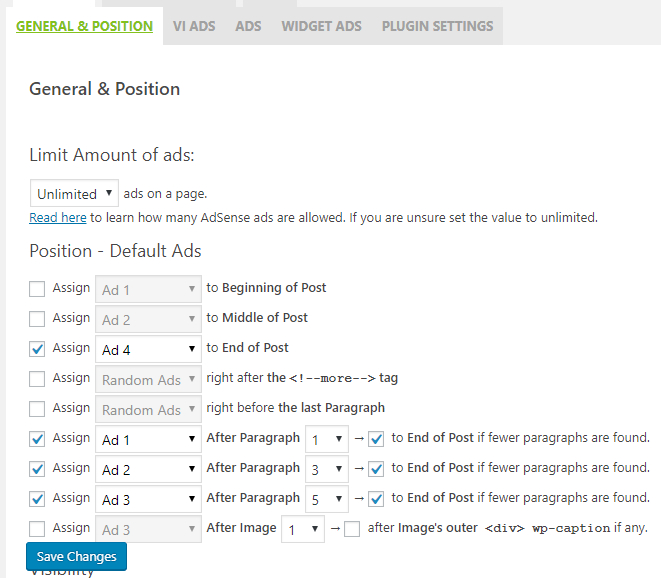 6. Done, that's all you need to do to maximise your income. The resulting example can be viewed here: Multiple Ads Showcase