What Are The Available Payment Methods?
We work with Self-Service Advertisers on a pre-payment account system.
To add credit to your account, click PAYMENTS located at the left of the screen. We accept debit and credit cards (Visa, MasterCard), Wire Transfer, PayPal and even a cryptocurrency!
Below are the minimum deposit amounts (for Self-Service Advertisers):
The minimum deposit for Credit Cards, PayPal and cryptocurrency is USD10.00
The minimum deposit for a Wire Transfer is USD50.00 (will be revised from time to time)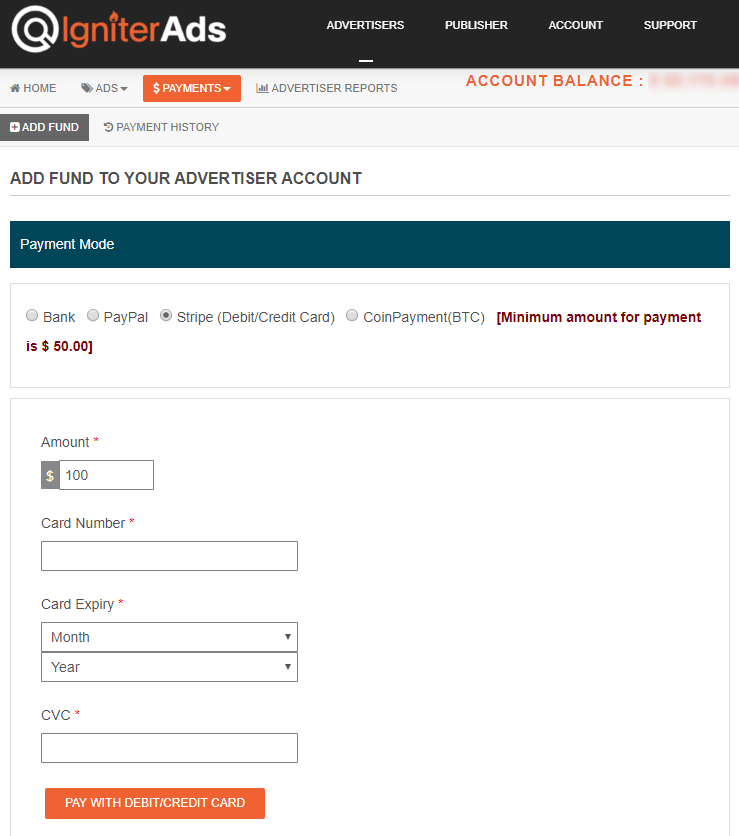 Add Funds via Credit Card
Click the PAYMENTS tab and choose ADD FUND.
Select the payment method: Debit/Credit Card (using Stripe as our payment processor)
Enter the amount you wish (Minimum is USD10.00)
Click the PAY WITH DEBIT/CREDIT CARD button.
Add Funds via Wire Transfer
There is a USD50.00 minimum deposit for a wire transfer (will be revised from time to time), but you will have to pay transfer fees, so we suggest using this option for larger deposits only (e.g. USD500 and above). Deposits made by a bank Wire Transfer usually take 3-5 working days to clear in our account.
Click the PAYMENTS tab and choose ADD FUND.
Select the payment method: Bank
Enter the amount you wish and other details
Click the Add Fund button
Add Funds via PayPal – MOST POPULAR
Click the PAYMENTS tab and choose ADD FUND.
Select the payment method: PayPal
Enter the amount you wish (Minimum is USD10.00)
Click the Add Fund button and you will be redirected to the PayPal payment page accordingly
Add Funds via CoinPayments.net (cryptocurrency)
Click the PAYMENTS tab and choose ADD FUND.
Select the payment method: CoinPayments(BTC) – you can also pay in any other cryptocurrency.
Enter the amount you wish (Minimum is USD10.00)
Click the Add Fund button and you will be redirected to the CoinPayments.net payment page accordingly (Figure 1)
Select Bitcoin or any other crypto coin and complete the checkout (Figure 2)