How do I install pop ad code on a WordPress based site?
There are many ways to insert a pop ad code into your WordPress based site. But first of all, make sure to add your site before proceeding with this tutorial.
Note: This tutorial only works for a self-hosted WordPress site and a premium version of the wordpress.com subscription (with its own domain). It will not work for the free version of wordpress.com with or without using own domain name.
This is a Pop Ad demo if you need to know how does it display on publishers site:
1. First, you need to create an ad code. In the publisher dashboard, select ADS CODES and choose the CREATE button. Enter the information that is required to create a pop ad code. Then, click the CREATE AD CODE button.
Ad Code Name – any name (will not be shown to the targeted user)
Ad Code Type – choose POP (Learn more)
POP Type – recommended to checked all

2. After clicking the CREATE AD CODE button, you will be directed to the next page. Copy all the ad code in the AD DISPLAY CODE and paste it into a note or any Wordpad. You can also change the text and background color and border type but make sure to save the setting by clicking the UPDATE AD CODE button. Please copy again the regenerated ad code.

3. To insert the ad code into your WordPress site the easiest way, we will guide you by using Insert Headers and Footers plugin for WordPress. It's an Adsense and IgniterAds compatible plugin. Using WordPress version 5 and above? No worries. We have tested it and works great.
Login as admin in your WordPress dashboard. Go to Plugins and choose Add New. Search for "Insert Headers and Footers" and install and activate it.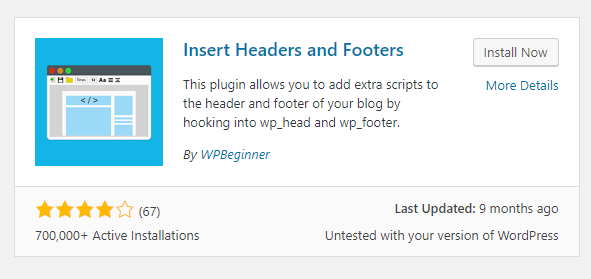 4. Now go to Settings and choose Insert Headers and Footers. Paste the ad codes inside the Scripts in Header field and click Save (technically, it's between <head> and </head>).

This tutorial is perfect for a plain WordPress theme. If you are using a different theme and facing difficulty, please consult the theme developer.