CPA ad pricing
There is a difference between ad pricing for CPA and CPC/CPM. The following is an explanation of ad pricing for CPA:
CPA for the banner, native, text+image, interstitial, pop and text ads
1. The screenshot below is an example of ad pricing if you want to optimise cost per action (CPA) for banner, native, text+image, interstitial, pop and text ads. Shopping ads have different ad pricing structures and please refer to step (8) below.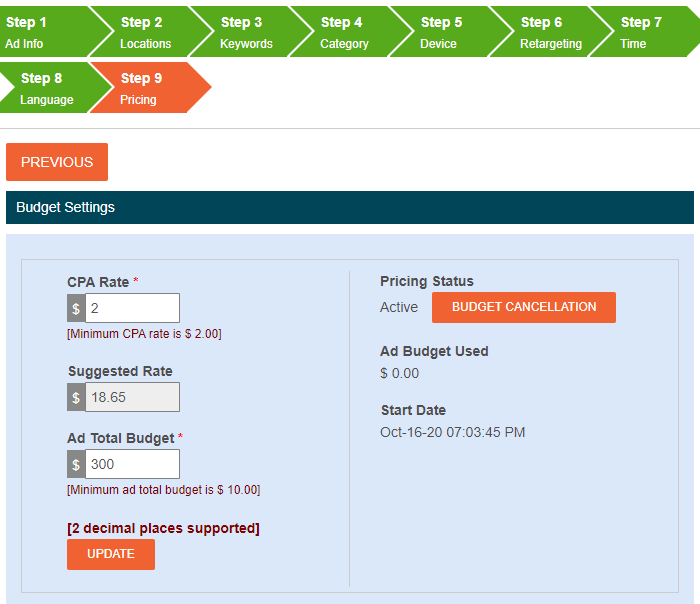 2. In this example, the current Suggested Rate is $18.65 per action. This is based on recent bids by other advertisers.
3. Suggested Rate also varies according to the size of the ad. For example, popular ad size such as 300x250px are different from an ad with a size of 120x600px.
4. At times, the Suggested Rate will decrease to less than $18.65 per action. It would be best if you always referred back to the Suggested Rate for your ad at all times and you can lower the CPA manually either similar to the value of the current Suggested Rate or slightly lower.
5. What if the CPA value is lower than the Suggested Rate, for example, $2.00? No problem, because our system will display the ad with the highest bid first and followed by your ad with a lower bid. To your knowledge, our system will display ads with high bids more often to the audience.
6. Ad Total Budget is the advertising budget for your entire campaign period. For example, if you want to achieve 150 sales and each of our publishers received a commission of $2.00 per sale, then Ad Total Budget is $2.00 x 150, equal to $300.
7. What if the Ad Total Budget is fully utilised? Your ads will stop automatically and you will need to add more funds via our dashboard.
CPA for shopping ad
8. There is little difference in CPA for shopping ads. When you create shopping ad, there are 4 types of ad sizes to choose from, namely 300x250px, 728x90px, 160x600px and 120x600px. For this example, we created shopping ads with sizes 300x250px, 728x90px and 160x600px. When you click on MANAGE ADS, you will see three types of ad sizes as in the screenshot below:


9. The CPA ad pricing for shopping ads is also the same as the CPA for other types of display advertising that have the same CPA Rate, Suggested Rate and Ad Total Budget configuration. You can refer to the descriptions in steps 2, 3 and 4 above.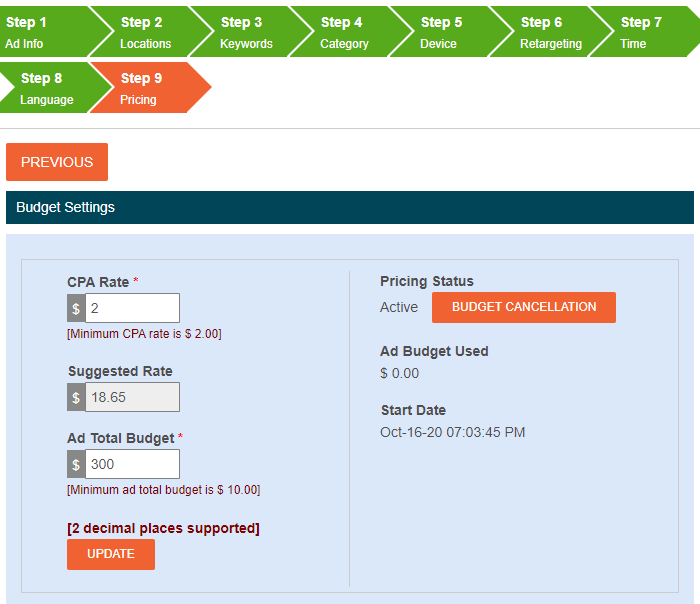 10. However, the most significant difference is due to choosing three types of ad sizes, so Ad Total Budget is also separate for each. As in the screenshot above, Ad Total Budget ($300) is for 300x250px ads only. You need to have additional advertising funds for 728x90px and 160x600px ads, which is $300 + $300 equivalent to $600. This brings the total Ad Total Budget to $900. This is just an example and you do not require to put a high Ad Total Budget value. Probably as low as $50 per shopping ad size (with a total of $150 for 3 shopping ad sizes).
See also: What will happen to my ads fund if I click the ADD budget button?