Ad Tweaking
This is a special advanced tutorial for advertisers who choose Managed Services. However, since March 2021, we have no longer provide Managed Services. Now, only a service to help advertisers make preliminary ads and then it must be monitored and tweaked by advertisers (Self-Service).
How to modify the ad configuration from time to time to suit your ads after creating it for you?
Log in to your IgniterAds dashboard, click on MANAGE ADS and select any ads that have been created. An example of a 300x250px CPC banner ad is shown below (click on the purple box):

Changing the Banner
You can change an existing banner to a new banner. Just click on "Choose File" and UPDATE. Then, we will check your banner and approve it.
Note: Make sure the banner size is the same as your "Banner Size" option.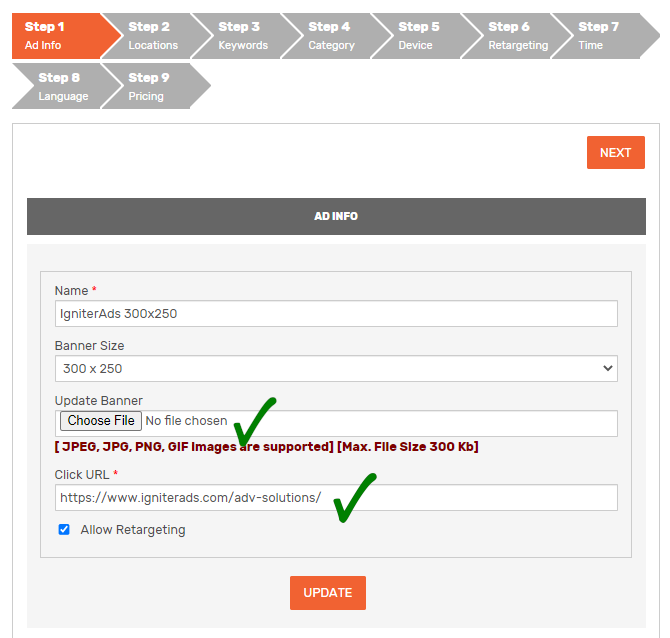 Customize Ad Target Locations
You might want to add countries, states, or provinces or remove them if they did not benefit your ads. Just select the desired country in the left column and click the "+" sign. Don't forget to click the SAVE TARGET LOCATIONS button.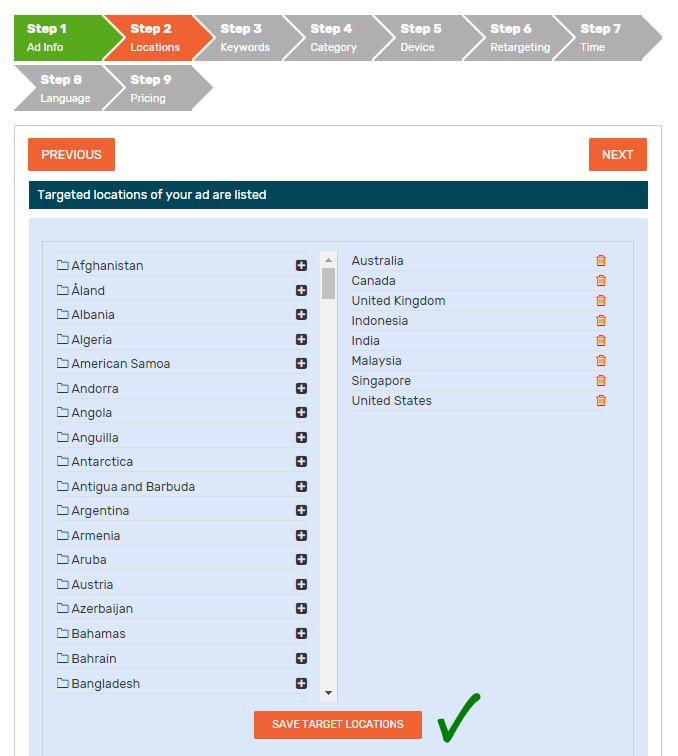 Modifying Keywords
If you find an existing keyword isn't particularly appealing, you can remove or add a new keyword. Enter keywords followed by commas or one keyword per line and click ADD KEYWORD.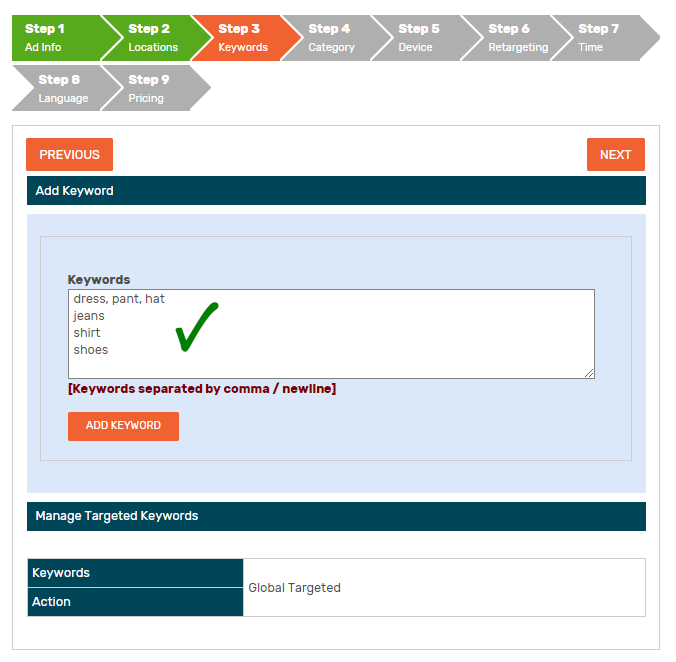 Modifying Categories
You can add more than one selection of your ad categories.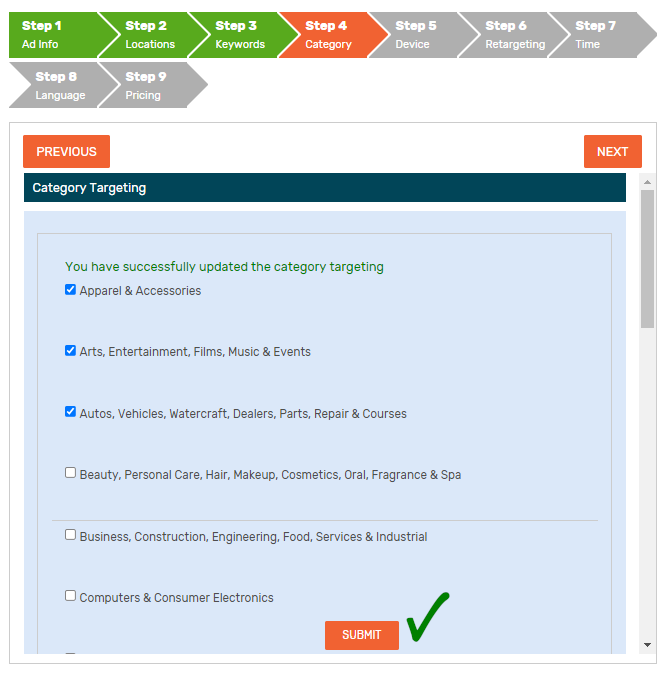 Modifying Device Type and Web Browser
There are times when you find that the Desktop & Laptop device used by your ad viewers is not well received and only Tablet & Mobile have more viewers. Select Tablet & Mobile only.
You can also choose the type of web browser used by the audience. However, we advise you not to choose a browser type as it requires specialised technical knowledge.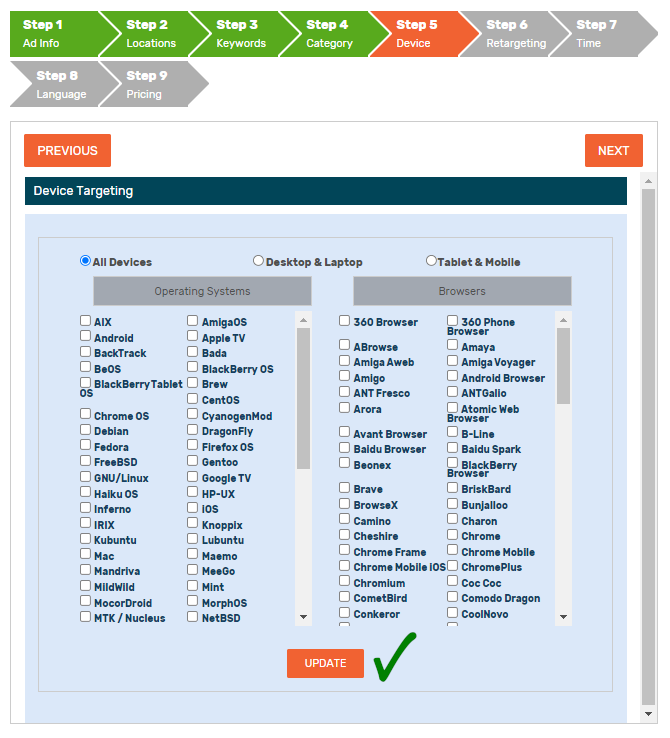 Modifying Retargeting
To enable the retargeting list to be displayed and selectable as in the picture below, you must first follow the tutorial on How to Use IgniterAds Retargeting.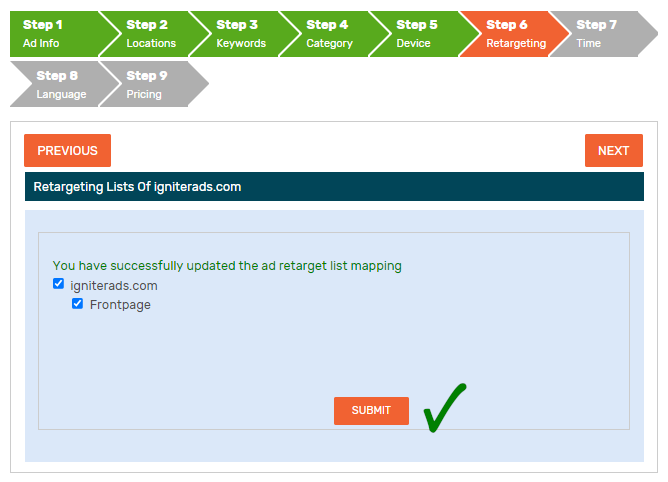 Modifying the Date and Time
If you find ads that run on Saturdays and Sundays are not profitable, you can change them to only run on weekdays i.e. Monday to Friday.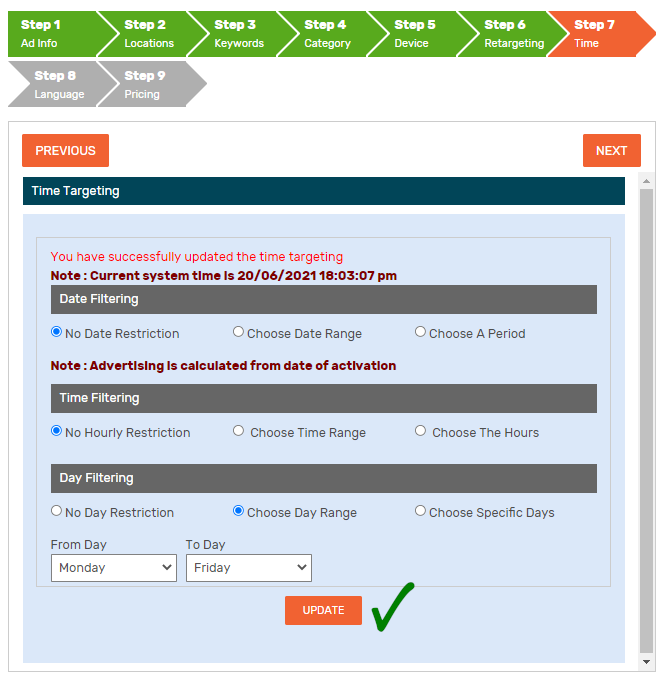 Modifying Languages For Web Browsers
Previously, you may not have selected the specific language used by the web browsers of your ad viewers. Then you find your product involves Chinese cultural clothing and is suitable to be sold to a Chinese-speaking ad audience. Then, select only Chinese and click UPDATE.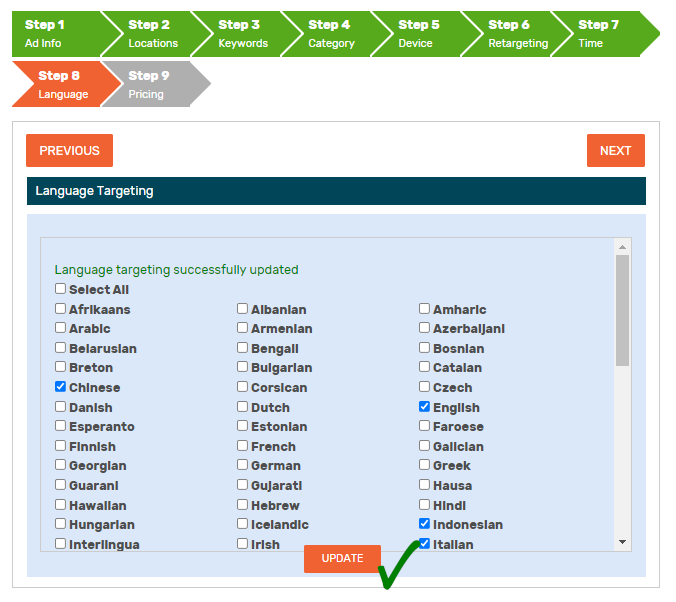 Increase/Decrease Advertising Spend
There are times when you find that your ads aren't receiving many clicks each day because your cost per click (CPC) bid is too low. You want to put your ad ahead of other advertisers. Here, you can increase the CPC Rate to $0.22 per click, slightly higher than the current bid price of $0.21 per click. Click UPDATE when done.