Guide if using currencies other than USD
You may be following a tutorial on creating an ad for banner, shopping, native, interstitial, pop, text+image or text and looking for a guide on how to use a currency other than the US Dollar.
Currently, our platform only accepts US Dollars as the primary currency. Other currencies will follow later in the coming phases.
It shouldn't be a problem for cost per click (CPC) as the calculation is easier and follows a rate per click (e.g. US$0.05/click). The solution is only needed for cost per mille (CPM) and cost per action (CPA) as it involves values ​​exceeding US$1.00 (e.g. US$5.00/mille).
1. You need to convert your local currency to the US Dollar first by using the currency converter tool below.
2. Example: The currency for your product on the website is EUR with a price of EUR60.00 and your CPA is EUR3.00 per action (also called per conversion or sale). Therefore, EUR2.00 is worth US$3.57 (according to the exchange rate on November 9, 2020). Therefore, insert the latest exchange rate into the CPA Rate, as shown in the screenshot below.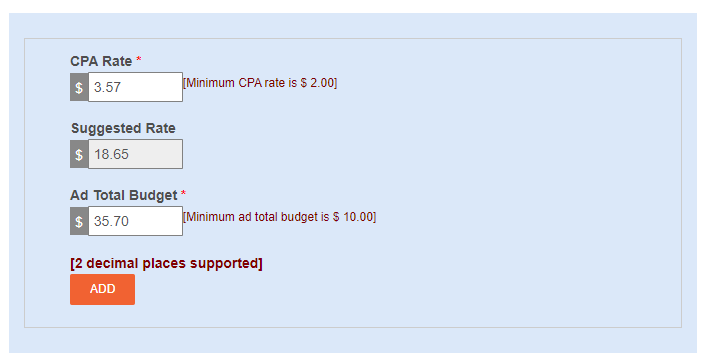 3. You may be wondering why Ad Total Budget is worth US$35.70? If you plan to target 10 successful sales, Ad Total Budget is US$3.57 x 10, equivalent to US$35.70. This is just an example and you can place the Ad Total Budget value as low as US$10.00.
Note: Even if our platform uses US Dollars while your website involves other currencies, we do not technically interfere in the transactions that you collect from PayPal, credit card processors and others that occur in other currencies. Our responsibility is to pay and distribute the commission to the publisher for successful sales only by deducting from your prepaid advertising fund.